Welcome to the Sylmar Seventh-day Adventist Church and the home of the Biblical Archaeology  and Anthropology Museum (BAAM)!  
Special Message
Beginning July 25 -- "Campmeeting Style Worship in the Patio." Join us for a unique and meaningful worship experience! You may wish to bring your own lawn chair, umbrella (for shade, just in case the sun hits your area!) or wear a hat. And don't forget to grab your Bible and water bottle! (But know the chairs we are providing are padded and comfy!) We'll do our best to keep everyone safe and healthy by observing all required LA County COVID safety measures -- including social distancing, required masks and forehead temp check. Please give Pastor Aitken a call (760-977-1144) if you have any questions. God bless!
Please join us this Saturday for Bible study, worship, and prayer.  Everyone is welcome!  Our service times are:
Sabbath School: 10:00 am
Worship Service: 11:00 am
To tour our Biblical Archaeology and Anthropology Museum, please call 760-977-1144 for an appointment.  It is also open following our Worship Service on Saturday mornings.
Sylmar Seventh-day Adventist Church 
John D. Aitken, Pastor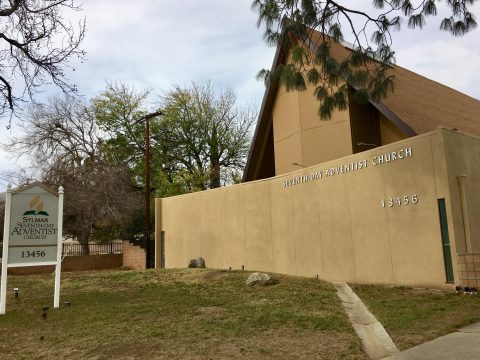 Happy Sabbath